I call him "Bala Cynwyd's Greatest Bluesman." He has been in the western Philadelphia suburb since 1969, though it would be inaccurate to say he lives there. Skip James is buried in Merion Memorial Park, down the street from the Bala Cynwyd Middle School. He died of cancer in Philadelphia, where he was living, in 1969.
Nehemiah Curtis "Skip" James was from Bentonia, Mississippi, where a particularly affecting, mournful style of blues spread through various local players, each adapting it to personal preference. Henry Stuckey, often credited with originating, or at least disseminating, the style, was never recorded.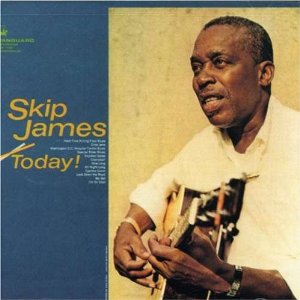 Skip learned various skills from his father: music, bootlegging, and preaching. He was one of the few Mississippi blues players of that time truly proficient on both piano and guitar, and if you listen closely you can hear a close stylistic connection between his playing on each instrument – – though the more haunting sounds came from the guitar, and, because we have for some time now lived in a guitar-centric music world, he is much better known for playing that instrument. On both instruments he displayed an approach that was at once both jagged and precise. His eerily high soft voice could be disquieting. His 1931 recordings for Paramount Records are gems, and rarer than gems in most cases as well, with only single copies of some of them turning up. They have been compiled on a number of reissue albums. I would say that the sound quality achieved by Pristine Audio in France is probably the best of all, though it is still scratchy. A number of fine albums from his rediscovery years in the 1960s are available.
Among his most haunting songs is "Hard Time Killing Floor Blues" a tale of life in the Depression. His "22-20 Blues" was largely lifted by Robert Johnson for the "32-20 Blues" and Johnson's classic "Hellhound On My Trail" seems likely to be an adaptation of James' "Devil Got My Woman," possibly through the intermediate step of Johnnie Temple's "Evil Woman Blues." Temple, a highly successful 1930s blues singer (which Johnson was not), hung out with James and recorded some of his songs, such as "Cherry Ball Blues."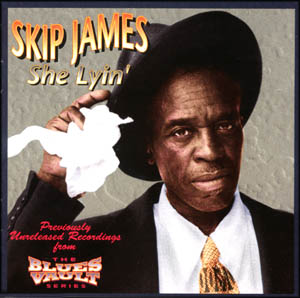 Skip's "rediscovery" in the 1960s in Mississippi led to appearances on the folk festival circuit, and performances in Europe, and Cream covering his "I'm So Glad," but he didn't live quite long enough to fully capitalize on his late-in-life success. By many accounts Skip James was a sullen, cynical, and mercurial person, though the author of his bio, the late Stephen Calt, is also widely seen as a "complex" character, and perhaps the definitive book on Skip James remains to be written. Philadelphia was the last home, and Bala Cynwyd the final resting place of one of Mississippi's absolutely most important blues figures.