James "Super Chikan" Johnson knows the correct spelling of "chicken, " but perhaps his spelling is the one that the chickens themselves, with whom Johnson claims to communicate, prefer. Super Chikan has raised chickens and worked as a truck driver. He started writing songs while on the road and cut his debut album "Blues Come Home to Roost" in 1997 for the aptly named Rooster Blues label. The album launched a unique musical career.
Chikan's songs mix the traditional with the contemporary, and offer plenty of humor and wry social commentary, often with poetic power, in such songs as "Down In The Delta" that describes a life in rural Mississippi that is both lush and impoverished.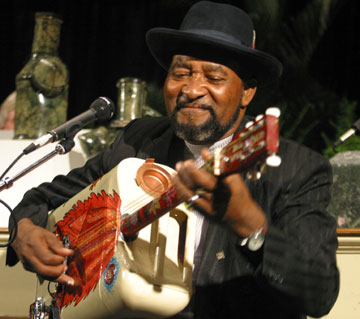 Chikan has been a featured performer at Clarksdale's famed Ground Zero blues club for years, though his fame has also spread to Europe. His 2009 album "Chikadelic" recorded in Norway at the Notodden Blues Festival includes a total reinvention of the famous Mississippi blues song "Catfish Blues" (that Muddy Waters made famous as "Rolling Stone"). Chikan turns it into a song about a bass complaining to the fisherman who keeps it while throwing the fortunate catfish back in the water.
In 2011 Chikan teamed up with Watermelon Slim on "Okiesippi Blues" a thoroughly modern look at rural life, complete with drunk pigs and a jam session on one-stringed diddley bows.
Chikan makes his own guitars ("Chiktars") from auto mufflers, rifle butts, and boxes. His band, called The Fighting Cocks, actually consists of all women, including his daughter Jamiesa Turner on drums. You never know for sure what Chikan will toss you next, but you can bet that it will be fun, and that it will be steeped in the tradition of the Mississippi Delta and the blues.