Music and family came together for Cedric Burnside, a grandson of the famed hill country blues artist R. L. Burnside. Cedric became known for his high-spirited drumming in his grandfather's band, which can be heard on albums such as "Burnside On Burnside" featuring R. L. Burnside and his band in a club on Burnside Avenue in Portland, OR.
Cedric also recorded with his uncle Garry Burnside, who is, despite that relationship, a peer of Cedric's, and brother Cody Burnside on an edgy album called "Burnside Exploration" in 2006,  which revealed his considerable talent as a songwriter and singer. The album included old country blues favorites like "Long Haired Dony" along with striking originals such as "One Cold And Lonely Night."
Later Burnside teamed up with guitarist Lightnin' Malcolm to tour and produce a couple of albums of strong modern rural Mississippi blues. "The Two Man Wrecking Crew" album won them a Blues Music Award for "Best New Artist Debut" in 2009, and Burnside got the BMA honor for "Drummer of the Year" the following year (and repeated that with a win in 2011). Burnside and Malcolm toured with the Big Head Blues Club to celebrate the Robert Johnson Centennial, and they contributed several songs to that group's "100 Years Of Robert Johnson" CD.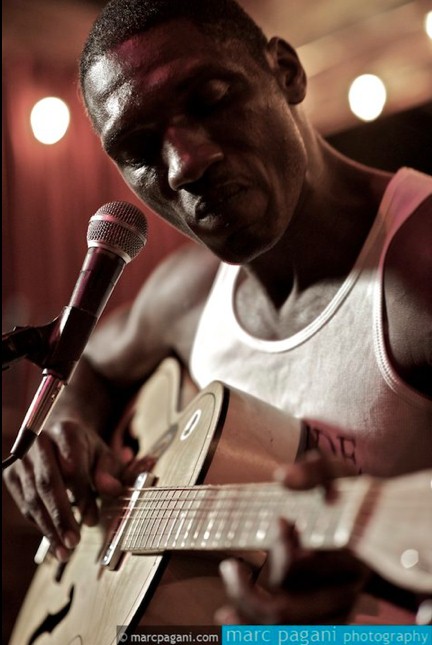 Although Burnside was primarily the drummer and Malcolm the guitarist, they could, and did, switch roles at times, and with his new Cedric Burnside Project in 2011, Cedric Burnside plays both instruments, his guitar style very reminiscent of his late grandfather's. Brother Cody and uncle Garry round out The Cedric Burnside Project (guitarist Trenton Ayres has now joined the band since the CD "The Way I Am" was recorded). On this album, Burnside incorporates some rapping, though his guitar playing is still clearly hill country blues, and his drumming is as extraordinary as ever.  With songs like "Holly Springs" and "The World Don't Owe You Nothing" they are thoroughly contemporary and also right in the heart of the hill country blues tradition.